"Renaissance" - Wire Wrap Jewelry
by Bev Ludlow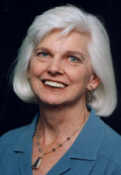 Bev Ludlow was born and raised in the San Francisco Bay area of California, and can't remember when she wasn't doing some kind of craft; everything from kite building, embroidery, and designing dresses for paper dolls as a child, to oil painting, sign painting, and woodworking later on. In 1987 she began making gemstone bead jewelry, about a year later added wire-wrapping, and thus discovered her perfect job.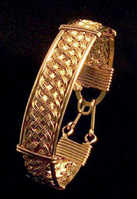 Bev started "Renaissance," in 1988, along with her husband, Clay, who does silversmithing and lapidary. They now exhibit at about 18 Northern California craft shows each year, including at "Apple Hill" in Camino, near their Pollock Pines home. Many of her unique wire wrap jewelry pieces are also available online.
Bev is a very visual, hands on designer. Her designs evolve from working with the color, shape, and "personality" of the stones. She often designs around the color harmonies of Summer, Fall, Winter, and Spring, using more curved designs for summer or winter-hued lapis and pearl, more angular settings with the earth-tones of jaspers.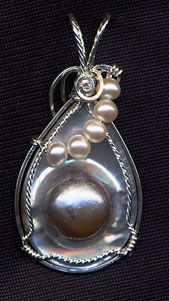 She has taught classes in basic wire wrap jewelry, and has been featured in both "Rock & Gem" and The Wire Artist Jeweller" magazines.
She designs her jewelry to be an "Affordable Indulgence" with prices which range from simple $5 earrings and $20 pendants, to elaborate hand-knotted bead and wire-accented necklaces which may sell for $300 or more. "Renaissance" is the exclusive source of Joanie earwires, Hairskewers©, and Booklaces™.. Many of her earrings can be ordered as Clip-ons. Custom orders are always welcome.
Bev feels her success depends on her customers' satisfaction.
To see more of her jewelry, or to check out her current Craft Show schedule, please visit her web site.
Renaissance Jewelry by Bev Ludlow
www.wirewrapjeweler.com
530-644-4818