Announcement: As of 1/1/09, The Crafts Fair Guide
is no longer in print and is now part of our parent publication, Craftmaster News.
For the latest event listings and reviews, please visit
please visit www.CraftmasterNews.com


About the Crafts Fair Guide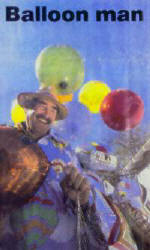 GENERAL INFORMATION

THE CRAFTS FAIR GUIDE is published quarterly, evaluating last year's fairs so you'll have a basis for choosing this year's. Each fair has been rated by one or more exhibitors, using the CFG Evaluation Form.

For every show reviewed you'll find basic information (location, dates, site description, size and type of crowd, booth size, fee, etc.). You'll also be given individual sales figures, average sales and rating of the show on a 0-10 scale.
Especially useful are the comments by the exhibitors about the fair and the promoter. Of course we include the promoter's name, address, phone number, and other information so you'll be able to contact them about this year's show.

When you decide which shows look good, look them up in the UPCOMING INFORMATION section for this year's information.
ISSUE MAILING DATES

| | |
| --- | --- |
| Issue | Mailed On |
| January-March | September 1 |
| April-June | December 1 |
| July-September | March 1 |
| October-December | June 1 |
CONTACT INFORMATION

THE CRAFTS FAIR GUIDE
PO BOX 39429
DOWNEY, CA 90239-0429
NO. CAL PHONE: 415-924-3259
SO. CAL PHONE: 562-869-5882
E-MAIL:info@craftsfairguide.com
WWW.CRAFTSFAIRGUIDE.COM

SUBSCRIPTION RATES

THE CRAFTS FAIR GUIDE is published quarterly.
$45 for 4 issues (1 year)
$80 for 2 years


HISTORY OF THE CRAFTS FAIR GUIDE

Lee Spiegel, once known as The Jolly Balloon Man from Berkeley, was sharing a pick-up dinner with several craftspeople in the back of a potter's VW Microbus. The year was 1972 and they had just participated in a particularly wretched crafts fair where nobody had made much money.
"Somebody should do something about this mess," said a jeweler. "We need to find out what these shows are like before we send in our money! I'm sick and tired of being ripped off."
And thus the idea for the Crafts Fair Guide was born. Lee brought out the first issue (typed on a $15 flea market typewriter and consisting of 10 pages) in the spring of 1973.
Thirty years later, the Guide survives and thrives based on its original idea that shared knowledge is powerful. With the help of this excellent marketing tool, thousands of artists and craftspeople have made successful careers selling their work at arts and crafts fairs. The Guide, although many times the size of the original, is still true to Lee's vision and continues to provide a voice for the Arts and Crafts Community.
In late 2006, The Crafts Fair Guide was acquired by Craftmaster Enterprises, publisher of Craftmaster News, the leading publication of event listings for the Western United States. For more information, visit our website here: http://www.craftmasternews.com